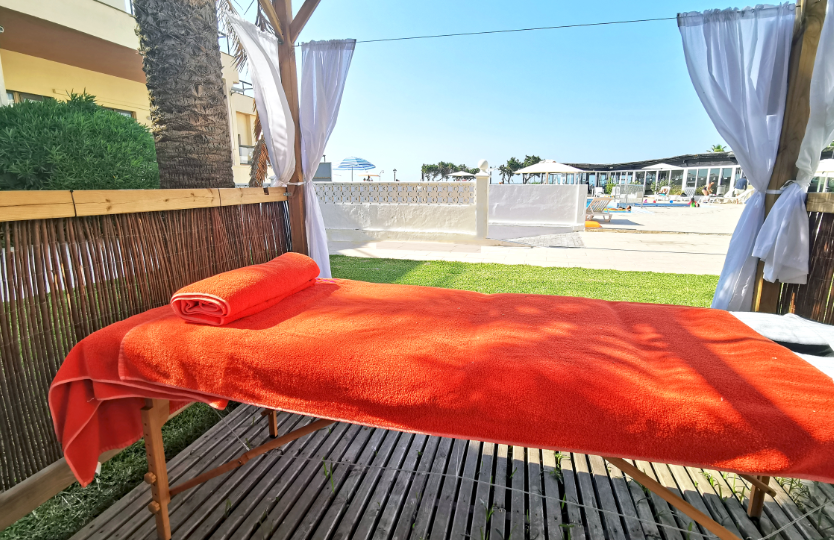 The most awaited moment is finally here, your holidays. The island of Ibiza is one of the most beautiful and magical areas in the whole world. It is a unique destination to spend a vacation of luxury and relaxation, adventure and sport, in addition to combining it with fantastic beach 'chiringuitos' or open clubs.
The options to enjoy the island are endless and vacations are over so fast when you make the most of your time in Ibiza. This is why we recommend you to dedicate time for yourself during your holidays, to relax and recharge your batteries. In our hotel Marina Palace Prestige in Ibiza, at the end of San Antonio Bay, we have a fabulous Massage Corner, with a wide range of massages available. Keep reading to get to know them and book your favourite.
Massage Corner
Waking up looking at the sea from your bed, going down for breakfast and sitting in front of the sea. Then, enjoy a delicious cappuccino and toast, while thinking about which beach you will visit today and what activities you will do with your family and friends. Should we go to Cala Conta, or sunbathe in Cala Salada? One thing is for sure, before starting up your busy day, let's play some yoga/pilates by the garden, surrounded by palm trees next to the pool.. let's swim with a Piña Colada, and of course, let's relax with a great 1 hour massage… Just the perfect holidays, right?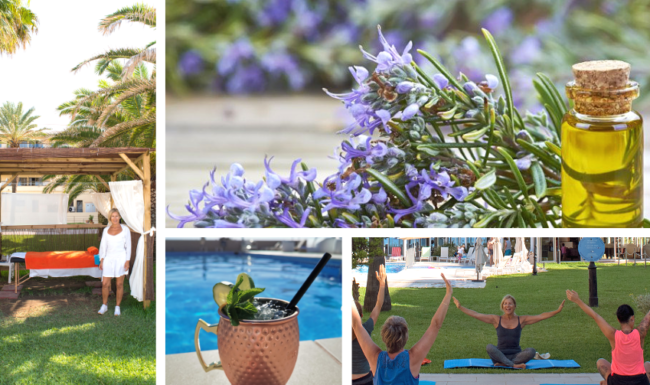 We offer a wide range of massages, from relaxing to sports massage, and of different durations, so you can choose the one you need the most. You can also buy packages of 2 massages with a discount, and we even have a family pack. Here below, you can see in detail our massage menu.
To book your massage, contact the reception of our hotel Marina Palace Prestige: +34 971 34 43 90 or send us an email at marinapalaceprestige@intercorpgrp.com
You can also download our massages menu here: Carta Masajes MPP 2019 (EN)
Massages Menu
Relaxing Massage – 30 min. / 1 hour
This massage aims to relieve muscle tension, relax and increase the production of endorphins through gentle movements and using essential oils.
Sports Massage – 40 min. / 1 hour
Ideal to relax and dissolve the muscular contraction through focused movements in the affected areas. Indicated to relieve the most tense areas of the body.
Ayurveda Massage – 1 hour
The term "Ayurveda" comes from the traditional Indian medicine and means "the science of life". It is made through the use of aromatic and warm oils. The intensity varies according to the body type (3 doshas). Its purpose is the general body and mind well-being.
Circulatory Massage MLD (Manual Lymphatic Drainage) – 30 min. / 1 hour
The DLM is a technique whose purpose is to activate blood and lymph flow. It improves the inflammation and fluid retention. Ideal for tired legs and lower back pain.
Foot Reflexology – 30 min.
This therapeutic technique is based on the stimulation of certain areas of the feet, known as "reflex areas". This massage causes specific effects in other parts of the body.
Kids Massage – 20 min.
Full body massage that provides well-being and relaxation for body and mind. It helps children adopt habits that are beneficial for their health.
Family Pack – 30 min. / 1 hour
This massage for 2 adults and 1 child is the perfect plan if you want to have a different and lovely family holiday. The goal is to relax body and mind through gentle movements and using essential oils.
Holistic Massage – 1 hour
This massage combines different techniques in the same session. It is a personalized massage that activates circulation where most needed. The rhythm of the massage depends on the desired effect, whether it is sedative or stimulant.
At Intercorp Hotel Group we like to offer you plans according to our accommodation experience, these activities mentioned above are perfect for you. Are you coming along?