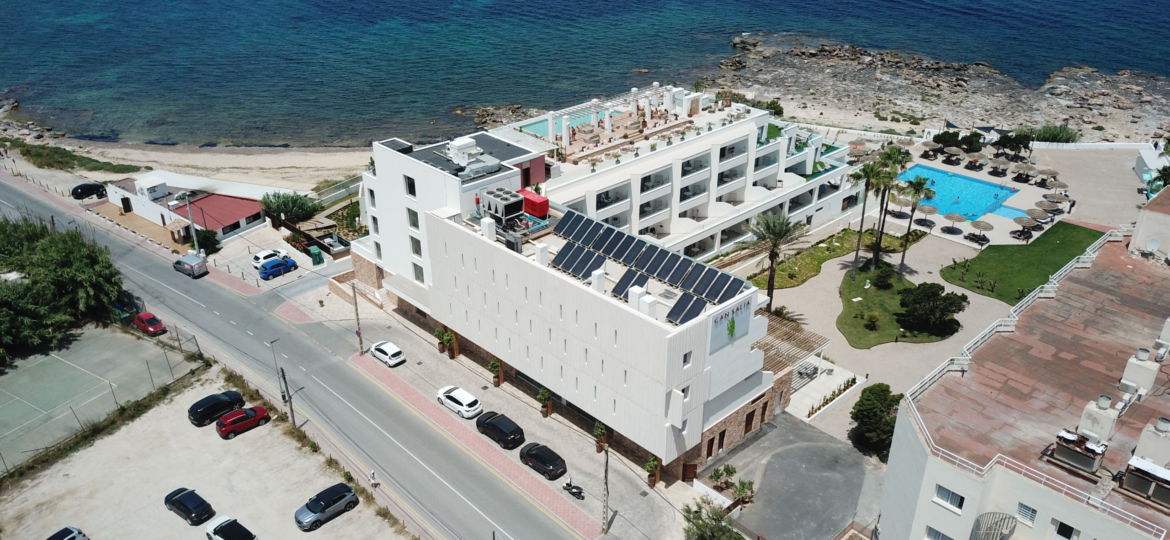 Situated on the rugged shores of Ibiza's famous sunset coast, at our Can Salia sustainable hotel we truly appreciate how blessed we are to call this island paradise our home. We also know that the White Isle's outstanding natural beauty is a big part of why you choose to spend your well-deserved holidays with us in the Balearic Islands.
As longtime Ibiza residents, each and every member of the Can Salia family is passionate about respecting and protecting the delicate environment and local community that surrounds our resort. From our breathtaking beaches to the crystal-clear waters and beyond, it is our mission to offer you a high quality holiday experience that leaves a minimal ecological 'footprint' on our golden sands, Mediterranean Sea and island.
In 2020 we began an extensive process of renovations to upgrade the hotel formerly known as Marina Palace Prestige to become our new flagship property. Under the new name of Can Salia, the entire resort was overhauled and redesigned to improve the quality, safety, accessibility and environmental sustainability of your holiday experience.
It was especially important to us to offer you the services and amenities of a modern resort paired with the comforts and 'home away from home' feel of our spacious one- and two-bedroom apartments at our Can Salia sustainable hotel.
Read on to find out more about the changes we have implemented in our hotel that have, so far, won Can Salia no less than three sustainability awards!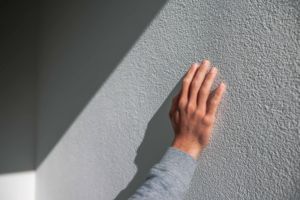 Eco-conscious measures at Can Salia sustainable hotel: 
All single-use plastics have been eliminated from the resort. 

Energy-efficient air conditioning: Our in-room units will shut down automatically when windows and / or entrance doors are opened.

Room amenities are made from 97% natural materials, while plastic packaging used inside the units is 100% PET recycled.

We only use cleaning products certified with an ecological seal across the resort.

We switched the cladding that covers the façade of Can Salia to Sate, a material that ensures that the building is insulated in a way that allows us to efficiently control temperatures.
We replaced all aluminium carpentry with new Cortizo carpentry, which significantly improves the thermal insulation and acoustics of the building. Furthermore, all sliding carpentry was fitted with an air conditioning disconnection system for maximum energy efficiency.
We installed solar panels to help the generation of hot water.
Wherever possible, furnishing materials have been purchased from companies that act ethically and carry sustainability seals, such as the beautifully carved wooden wall behind our reception desk or the bar counter in the Taste of Salia Restaurant. These pieces come from recycled wood and are locally handcrafted and handmade.
We reuse the grey water from showers and bathroom sinks to supply our WCs and to water Can Salia's green areas.
All of our Suites are equipped with motion sensors that will cause the lights and air conditioning to turn off automatically after 30 minutes when no movement is detected in the room.
Guests are encouraged to explore the island on our Can Salia e-Bikes or to choose an electric hire car, with two charging stations available at the property.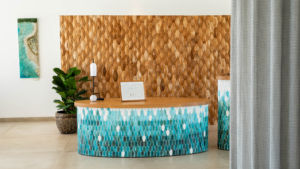 Can Salia Sustainability Awards

We are thrilled that our efforts have been recognised with no less than three sustainability awards so far.
These include two honours from the renowned FITtUR International Tourism Trade Fair, namely the award for Knauf's Best Hotel Sustainability Project as well as an honorary recognition for the Best Hotel Sustainability and Rehabilitation Project in Spain.
In November 2022, we were proud to receive the PREMIO AL MEJOR PROYECTO TURÍSTICO DEL AÑO [BEST TOURISTIC PROJECT OF THE YEAR] awarded by the Consell de Ibiza, the Ayuntamiento de Santa Eulalia and Santa Eulalia Empresarial during the IX Foro Turismo Ibiza.
Thanks to these considerable improvements Can Salia has moved up two letters in the Certificate of Energetic Efficiency to the letter 'B', reducing our carbon emissions from 43.71 Kg.CO2/m² per year to 16.92 Kg.CO2/m² per year – cutting them by more than half!
Furthermore, the comprehensive reform of the apartments, Can Salia's interior and exterior common areas, and reception have elevated the resort to a 4-star rating.
Far from resting on our laurels, as we look towards the 2023 season and an even 'greener and cleaner' future, we are already planning to implement further environmentally friendly practices.
Committed to becoming leaders in sustainable tourism, we are doing our utmost to introduce these improvements across all of our properties in the future!