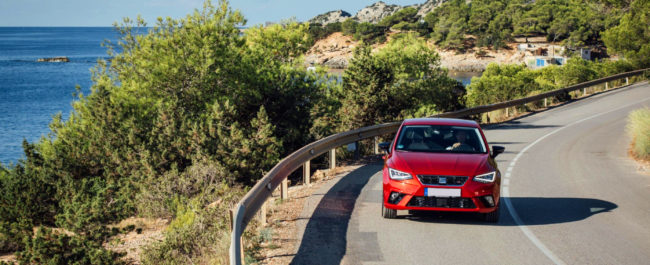 How to move around in Ibiza and get to our hotels.
We all agree that Ibiza is a paradise. It is a small island, full of charm and nature. Its waters are crystal clear and has tiny coves with difficult access in some cases.
That is why in your visit to the island, you must first inform yourself of the different means of transport. Here we help you understand all the options and which ones we recommend according to the occasion and time of the year.
Car and Motorbike
The most comfortable and recommendable option to move around Ibiza is to rent a car. You can carry everything you need to enjoy the island with your family in your own way and there are also some hidden beaches that are not accessible by public transport. With a car you can be comfortable and at your own pace.
To get from the airport to our two hotels located in Port des Torrent and Cala de Bou areas, the fastest and most comfortable option is the car (30 min journey).
However, it is very important to keep in mind that the island has limited space. If you come during spring or fall, you have more space to move around and park your vehicle. However, if you come during the summer, moving with your own vehicle can be more complicated. So staying in a hotel with parking such as the Marina Palace Prestige or Torrent Bay apartments is certainly essential to enjoy your vacation more peacefully.
Our Marina Palace Prestige parking rates are € 8 per day and € 42 per week (subject to changes), to be booked at the reception of the hotel.

If you want to rent a car or a motorbike, we recommend you book it in advance. A very good value for money option is the company Class Rent a Car. What makes them stand out from the rest is that in addition to having competitive prices, you can choose the airport as your pick-up point.
By Bus
It is an island with a weak public transport system and a lot of traffic during the summer. That is why we recommend you take the bus in July and August when visiting the most touristic places.
The bus is the cheapest option and the frequency of buses increases to facilitate mobility around the island from June to September.
To get from Ibiza airport to our hotels, there are different lines available depending on the month. Line L9 takes you directly to our complexes, during the months of June to September. The rest of months, we recommend renting a car or taking a taxi directly. In the tables here below, you can see the schedules, bus lines and more details:


Taxi
The taxi is one of the best options for transportation in the island, especially if you are tired after flying and prefer not to drive when landing. However, during your stay, it is more convenient not to depend on taxis and rent your own car.
From the airport to our Marina Palace Prestige or Torrent Bay hotels, the journey takes approximately 30 minutes, and the price ranges between € 28 and € 37 depending on the traffic and the chosen route (prices subject to changes). The taxi stop is located at the airport entrance.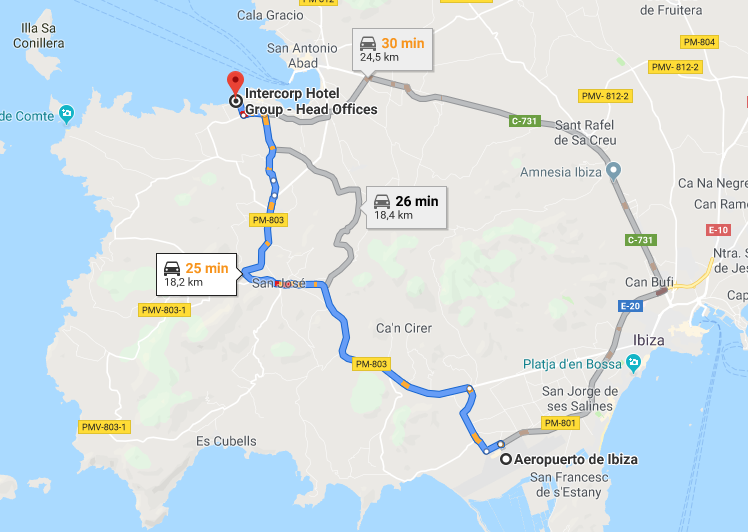 It is important to indicate the taxi driver to go through San José (as in the picture above), since it is a shorter way and you will save approx. € 10. The other option is to go through the highway, it is more comfortable if you have rented a car, but not the ideal option if you go by taxi.
By Bike
Our hotels are located in Cala de Bou, the perfect place if you like to go by bike to the beach and to do some sport with your partner. We are 15-20 min. away by bike from San Antonio Bay, and 15-30 min. from the most famous beaches of the island such as Cala Bassa or Cala Conta.
We recommend renting the bike, helmet and padlock directly at the hotel reception, as we offer you the advantage (free service) of being picked up at the reception to go to the rental office by car (5 min.). The rental opening time is from 9 a.m. to 1 p.m. and from 5 p.m. to 8 p.m. from April to October (closed on Sundays). You can rent at the moment or book in advance, either way it is paid directly at the rental office.
You can choose between different types of bike (mountain / trail) and different sizes. The prices are quite cheap, getting a discount when renting more bikes or more days. The rental price is as follows:
1 day or 1 bike: 15€
2 days or 2 bikes: 24€
3 days or 3 bikes: 36€
4 days or 4 bikes: 44€
5 days or 5 bikes: 50€
6 days or 6 bikes: 54€
7 days or 7 bikes: 56€
Note that there is a deposit of € 20; prices subject to changes.
We hope this information has helped you understand the transport of the island a little better, and that you enjoy your stay at Intercorp Hotel Group to the fullest. See you soon!